Carolinas Club Foundation
The Carolinas Chapter of the Club Managers Association of America formed the Carolinas Club Foundation (CCF) in 2005 as a tax-exempt, 501(c)(3)organization committed to supporting and contributing to the development, growth, and image of the club management industry.
The CCF's mission is to raise funds to financially support the professional development of Carolinas Chapter club managers and student chapter members through education, training, and research initiatives.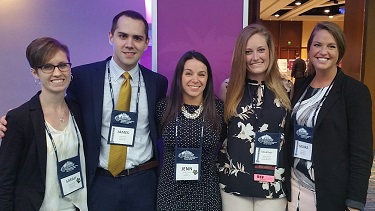 New in 2017, the CCF awarded five applicants with the YoPro Conference Scholarship, allowing Young Professional Managers (YoPros) the opportunity to attend and participate in the 90th Annual World Conference, held in Orlando, Florida in February 2017.
Photo: 2017 YoPro Conference Scholarship winners.
Now 17 years in existence, the CCF continues to add new scholarship opportunities for our members, allowing managers to fully engage and further their education. While a major source of the funding for the CCF initially came from individual donations from club managers who recognized the importance of the Foundation, other funding sources have become the Carolinas Sponsorship Program, Fundraising Vendor Golf Tournament, and Wine & Widgets Auction.
Watch the CCF Scholarship video below!