Governor Pat McCrory Declares April 22 as North Carolina Golf Day
---
4/23/2015
RALEIGH, N.C. -- As part of North Carolina Golf Day, Carolinas Golf Association Executive Director Jack Nance met Wednesday in the Old Capitol Building with legislators and allied golf leaders. Governor Pat McCrory declared April 22 as North Carolina Golf Day in appreciation of the golf industry's contribution to our state.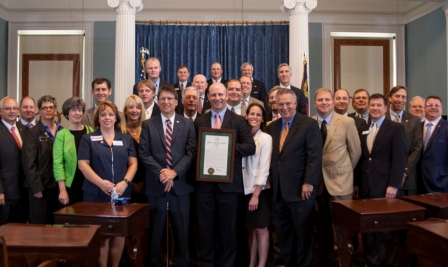 The golf industry is represented in every county of North Carolina through more than 550 courses in the state. A 2013 study performed by SRI International confirms the golf industry's role as a major economic driver in North Carolina, contributing a $4.2 billion annual economic benefit to the state. North Carolina golf provides the basis for close to 53,000 jobs and $1.3 billion in wage income alone (2011 figures).
This year, tens of thousands of visitors will attend PGA Tour, PGA Champions Tour and PGA Web.com Tour events in centers such as Charlotte, Greensboro, Raleigh, Cary, Hickory and Davidson. Through those events and countless smaller tournaments across the state, the golf industry has contributed close to $146 million annually to charitable interests.
Based on information provided by more than 100 North Carolina golf facilities throughout last year, increases were shown in golf rounds played per days open (0.7%), golf fee revenue (4.7%), merchandise revenue (3.7%), and food and beverage revenue (2.9%) compared to 2013.

The North Carolina Alliance for Golf includes the Carolinas GCSA, Carolinas Golf Association, Carolinas PGA Section, North Carolina Golf Course Owners Association, Turfgrass Council of North Carolina, North Carolina Golf Marketing Alliance and the Carolinas Chapter of the Club Managers Association of America.
About the Carolinas Golf Association (CGA)
The CGA is a 501(c)(3) not-for-profit educational organization that was founded in 1909 to promote and to protect the game of golf in the Carolinas by providing competitions, education, support and benefits to golf clubs and golfers. The CGA is the second largest golf association in the country with over 700 member clubs represented by nearly 150,000 individuals.
Now in its 106th year, the CGA annually conducts 43 championships and five team match competitions for men, women, juniors, and seniors. It also runs over 140 One-Day (net and gross) events and qualifying for USGA national championships. The CGA serves golf in the Carolinas with numerous programs such as: the USGA Handicap System; tournament management software and support; course measuring and course/slope ratings; agronomy consultation; answers about the Rules of Golf, Rules of Amateur Status, and Handicapping; Carolinas Golf Magazine; Interclub series; Tarheel Youth Golf Association; Carolinas Golf Hall of Fame; expense assistance for USGA Junior and Girls' Junior qualifiers from the Carolinas; and the Carolinas Golf Foundation (CGF). The CGF has distributed more than $1,500,000 since 1977 to benefit Carolinas' golf initiatives including junior and women's programs.
For more information about the CGA, visit www.carolinasgolf.org.