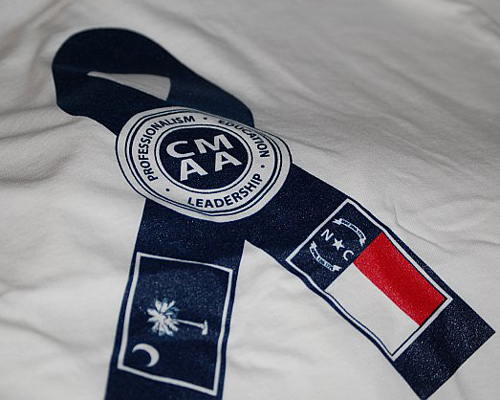 Carolinas Against Cancer was incepted in 2010 as a way for the Carolinas Chapter to support a different cancer-related cause each year. Collectively, we are able to donate a greater dollar amount toward finding a cure for cancer. In the inaugural year of 2010, the Chapter chose to donate to the Leukemia & Lymphoma Society; in 2011, Chapter members participated in the Making Strides Against Breast Cancer Walk, a fundraising event for the American Cancer Society; and, in 2012-2013, the Carolinas Chapter was proud to partner with The Jenny Sullivan Sanford Melanoma and Skin Cancer Program at MUSC Hollings Cancer Center to fight against skin cancer.
In 2014, the Chapter was on a mission to raise money to help find a cure for pancreatic cancer. The Chapter again kept the funds close to home in the Carolinas by way of donating all money raised to the UNC Lineberger Comprehensive Cancer Center, located in Chapel Hill, NC.
Four of the Chapterís regions hosted a fundraising golf outing in conjunction with one of their meetings. A BIG thank you to the following host clubs that generously offered their course at no cost so that all proceeds could go directly toward our cause: Chapel Hill Country Club, Chapel Hill, NC; Daniel Island Club, Daniel Island, SC; Greenville Country Club, Greenville, SC; and The Peninsula Club, Cornelius, NC.
The goal was to generate at least $6,000 in proceeds per event, $24,000 total. The Chapter is proud to have far exceeded that goal and to have sent more than $32,000 directly to the UNC Lineberger Comprehensive Cancer Center.
Thank you to all participating individuals, clubs and companies. We could not have been as successful as we were without your support.
If you have an idea for the Chapter's 2015 Carolinas Against Cancer initiative, please contact Steve Matlaga, CCM, Public Relations Chairman, at s.matlaga@greensborocc.org.